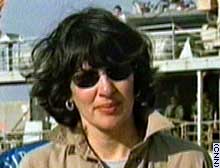 Here's my pick.  CNNs Ms. Amanpour.  One of the most biased journalists I've ever listened to.
And tell me if you recognize this mug shot of my second most loathed MSN personality.
"… charged with Grand Larceny … a Miami radio station once printed bumper stickers that said, "Honk if **** ****  Owes You Money."
Ok, its over to you good readers.  Let us know who your most disliked MSM personality is.  And there are no rules; right or left of the line is ok.