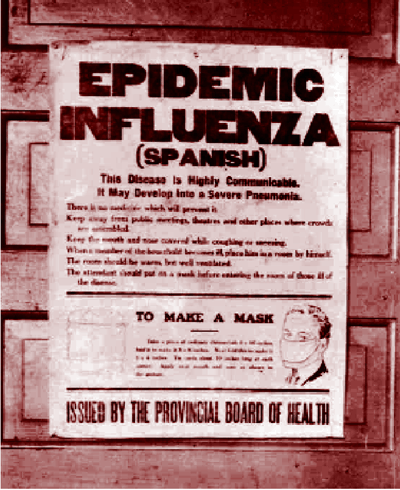 The virus: It's considered a strain of swine flu but also combines genetic material from birds and humans in a way researchers have not seen before. (Minn. StarTribune 4/24/09 2119 h)
TORONTO – Further evidence emerged Friday that there is person-to-person spread of a new flu virus to which many people may have little or no immunity – key ingredients for the development of a flu pandemic. (Helen Branswell, THE CANADIAN PRESS, 4/24/09 2105h)
As of this evening (Friday) Mexican President Felipe Calderon held an emergency meeting with high level members of his government and Mexico's top health officials.
Infected persons are contagious for up to seven days from onset or longer if symptoms persist. The virus is believed to be transmitted through coughing or sneezing. The US Center for Disease Control is highly concerned over the outbreak in Mexico where as many as 70 people may have already died from the virus. The CDC however has so far held back on sending advisers or medical observation professionals to the stricken country.
There are reports of the illness coming from Southern California but as of tonight those cases have not been confirmed as the unusual strain of H1N1. Meanwhile the World Health Organization is monitoring events carefully due to the apparent lack of resistance people have to this unusual strain of the flu virus and its ability to kill.
Meanwhile …
The Army Times first reported it on October 1, 2008 that the U.S. Army's 3rd Infantry Division's 1st Brigade Combat Team who'd spent the previous 36 to 60 months deployed in Iraq would be coming home. But this homecoming would be different; now they would be detailed out as an on-call federal response force for natural or manmade emergencies and disasters, including terrorist attacks.
But back at Homeland Security …
Senator John McCain is repeating the claim recently made by Janet Napolitano that the 911 terrorists entered the United States through Canada. Napolitano however is staying on top of things today apologized to the leadership of the American Legion for the recent report issued by her Department suggesting that Vet's returning home from Iraq may pose a domestic terrorist threat.
And in the House of Representatives …
H.R. 1913 was approved with Arizona members Mitchell being one of the bill's Co-Sponsors with Grijalva and Giffords both voting in favor. In the Senate, John (yes I served in Viet Nam) Kerry vowed to personally insure that H.R. 1913 is approved into law. But what is H.R. 1913 you ask? It is the Local Law Enforcement Hate Crimes Prevention Act of 2009, aka the hate crimes law. Written into the law is $5 million dollars annually for grants to local law enforcement agencies to assist them in fighting the crime of hate. The law however does not protect Christian pastors who teach from the Bible.
Maybe since they're prohibited from teaching from the Bible, this passage will be forgotten too?
I looked, and there before me was a pale horse! Its rider was named Death, and Hades was following close behind him. They were given power over a fourth of the earth to kill by sword, famine and plague…" Revelation 6:8
Anyway…
For those of you who may be wondering what they can do about this "unusual strain" of virus that humans appear to have very little defense against, your government has a plan! Seriously, this is their plan.

Now don't you feel safer already? And besides, if you do decide to get upset about these events – the Army is ready to restore your sanity – or at least clean up the bodies.
P.S. this blog is also being classified under the category of 'Terrorism' since the virus strain combines Avian, Swine and Human genetic traits that do not appear to have natural origins. Some of the intel received during the Bush Administration has suggested that some folks overseas (we can't call them terrorists anymore), have been working on genetic mutation of the flu virus. What better place from which to release such a virus to reach the US than Mexico City? Only time will tell if this is an appropriate category to use for these thoughts.
In the meantime, clean up your thinking – its a hate crime you know…
but consider who's running the country.
Then there's Chris Simcox to consider.
Update:
The CDC has called a conference call for 2PM ET April 28, 2009 The subject is: Federal Public Health Emergency Law – Implications for State and Local Preparedness and Response.
This COCA conference call sponsored by the CDC Coordinating Office for Terrorism Preparedness and Emergency
Response, will offer a comprehensive overview of the principal federal
laws that frame responses to all-hazards public health emergencies.
These laws are directly relevant to federal, state, tribal, local, and
territorial agencies' emergency preparedness and response efforts.