The title change is for Kenny.  Yes, I read her speech and it is a matter of record that 60% of her decisions have been overturned … I think Grumpy Gus is right, Sonia should have run for the (California) legislature.  Judge Sonia views the world through "race" not the law as the following quote illustrates.  Thanks Kenny.
I learn something new about the judicial process and about being a professional Latina woman…"
[a] "wise Latina woman with the richness of her experience would more often than not reach a better conclusion than a white male who hasn't lived that life."
This IS a judical activist woman who does not understand the role of a Supreme Court Justice (and I don't care if she went to Yale or not, so did GWB and look what he did).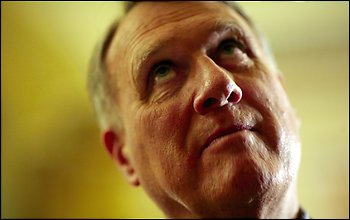 But what will this man do?
Sen. Jon Kyl (R-Ariz.) today:
"I would expect that Senate Democrats will afford the minority the same courtesy as we move forward with this process,"
He is speaking of course of the 2006 Alito confirmation hearings during which he was in Arizona once again reminding voters who he is and why he still needs a job.  But during the actual hearings in 2006, Jon Kyl had this to say:
"One might wonder why we would need more than just a couple of days of debate, especially since nothing new has been said for weeks. But, if the public has noticed anything during this process it is that senators value their right of unlimited debate."
Meanwhile the Democrats have August 7 as their "due date" to complete the court confirmation process, and when asked about this deadline, Jon Kyl said, "…it was "probably too ambitious a timeframe."
Anyone paying a bit of attention will note just how cautious the Republicans are being in their public comments regarding a Hispanic woman nominee.  And that's just the point, race and gender.
The decisions of this radical activist judge are being muted by fear of being labeled "racist" or worse.  Is that what its come down to in America today?  It was ok to drag Clarance Thomas through the mud of sexism and racism, but hands off to the pick of a minority by a minority president.
Of course the Democrats aren't a bit shy about their intentions.  They need Ms. No-to-mayor on the bench because of pending radical climate change legislation and radical health care socialization bills working their way through Congress presently.
Look carefully at how many times this candidate for the SCOTUS has been rebuked by her own Second Court of Appeals.
The bottom line is, this president is playing the race card and no one is calling him on it.  The consequences of this judicial nomination will be with our children and our great grandchildren for generations to come.  Can we really afford to continue this affirmative reverse race game?
How about nominating a real judge (of any color, gender, or sexual orientation) who can make the case for Obama's progressive programs based squarely and logically on law as written, and not on the richness of their ethnic and gender experiences.
Unfortunately, as Lawrence Butler (Rowan University political scientist) Tuesday put it, the aggressiveness with which the GOP chooses to go after Sotomayor "is more of a political decision, not one based on principle."
We see the truth in Mr. Butler's comment in the statements of Jon Kyl.