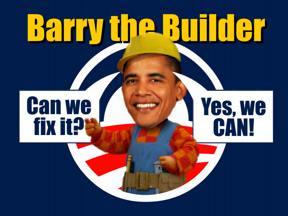 Just think of all those folks who spent the last election chanting the slogan of an Australian Muppet for small children.
GM to close 1100 Dealerships, the day after Chrysler announced closing 789 dealerships.
Now usually, "under performing" dealerships are offered for sale or closed.  This isn't happening which brings us to how this came about.   It doesn't take a rocket scientist to figure out where these orders are coming from, Mr. Fix-it in the Oval Office.
When our favorite local liberals come crashing in telling us that its "economics" and "the management" made these decisions, I sincerely hope those of you who know better will educate them otherwise.   But in case, here's a delicious quote to chew on by Treasury Secretary Geithner:
As difficult as these announcements are for the dealers that will no longer be selling GM and Chrysler cars and the communities in which they operate, without the President's intervention, the entire GM and Chrysler dealer networks could have been lost.

The Administration's commitment to this industry has given both companies a new lease on life. By supporting a restructuring that results in stronger car companies – supported by efficient and effective dealer networks – this process will not only provide more stability and certainty for current employees but the prospect for future employment growth.
Here's how Barry the Builder with his tax evading side-kick is fixing the economy.  These closures will mean joblessness for some 101,000 dealer employees. Plus many others in associated suppliers.

Presumably, since these positions will have been lost, they'll be added to the 3.5 million jobs the Obama administration will save or create. (Andrew Malcom)
From the Sales Manager to the Lot Attendants, from the parts counter worker to the mechanic all we can hear is "Yes We Can"