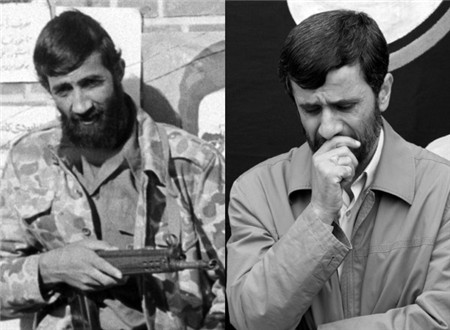 Was Iranian President, Mahmoud Ahmadinejad, a kidnapper of Americans in 1979?
Former U.S. Embassy hostages taken by Iranian militants claim that Mahmoud Ahmadinejad was one of the terrorist leaders who helped kidnap and torture them.  Notably Don Sharer, formally US Navy, and retired US Army Colonel, Chuck Scott emphatically state that the current Iranian President was a prominent captor. 
From website: http://rescueattempt.tripod.com/id28.html
"Chuck Scott characterized his tormentor as
'cold, hard-nosed'
, and said his memory is solid,
'as sure as I'm sitting here.
If you went through a traumatic experience like that and you were around people who made it possible, you're never going to forget them,' said Scott."
This is a memorial to the soldiers who died trying to rescue the hostages, retrieved from
website: http://www.freerepublic.com/focus/f-news/2006063/posts.
This photograph is taken at Arlington National Cemetery. The memorial for these heroes is across from the Ampitheater, and is next to the Space Shuttle Challenger Memorial:
Eight soldiers died that day, trying to rescue Americans held up in a political nightmare.  The terrorist revolution and control of Iran is back again like a dark shadow nearly thirty years looming; Jimmy Carter's inept fostering of the Fall of the Shah of Iran, his impotent foreign policy, and his gross miscalculation of the Iranian revolution saddles us all with militant terrorists holding nukes.
"Iran is quite distant from Israel…I think it would be almost inconceivable that Iran would commit suicide by launching one or two missiles of any kind against the nation of Israel."- Former President, Jimmy Carter at Emory University, September, 2007
"My interest in meeting with Iran is practical; it is not based on my assessment of who they are or my judgment about their values, but rather it is a practical assessment in terms of how we can best achieve our ultimate goal, which is an Iran that is not threatening its neighbors, is not threatening Israel, does not possess nuclear weapons, is not funding organizations like Hezbollah and Hamas," -Barack Obama, April, 2008.
He further discussed this recently in Oregon:

"Iran, Cuba, Venezuela — these countries are tiny compared to the Soviet Union. They don't pose a serious threat to us the way the Soviet Union posed a threat to us. And yet we were willing to talk to the Soviet Union at the time when they were saying, `We're going to wipe you off the planet.'"
John McCain regarding Iran and Barack Obama's concepts for diplomacy-

"It (Iran) provides deadly explosive devices used to kill U.S. soldiers in Iraq, sponsors terrorists in Iraq and elsewhere in the Middle East and is committed to Israel's destruction…The threat the government of Iran poses is anything but tiny."