FOR IMMEDIATE RELEASE: December 7, 2011
CONTACT: Chad Heywood
East Valley – Kirk Adams for Congress released its second individual testimonial from the campaign's latest YouTube series titled "I Support Kirk Adams."
The video features college student, Joshua Hoyt, on why he supports Kirk Adams for Congress. Previously, the campaign released a video trailer of all five of the community members who support Kirk Adams. Then just last week the campaign released its first individual testimonial from Gilbert Vice-Mayor and Mother Jenn Daniels.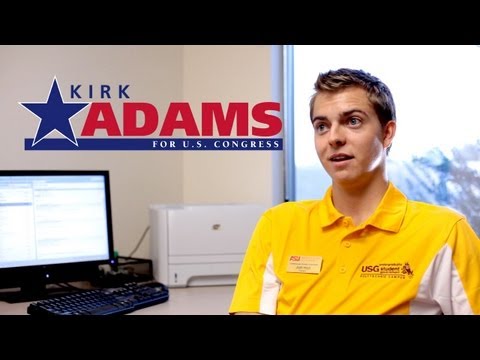 Each individual in the video series offers a unique perspective and explains how Kirk Adams's political courage, personal integrity, and conservative principles have had a positive impact on them and why he's the right choice in 2012.
"As I look to my future, as I look to the future of the American education system and the future of my America…I really am concerned." says college student Joshua Hoyt,
"Kirk Adams represents a new and kind of exciting faction of the Republican Party," Hoyt affirms, "The young conservatives like Eric Cantor and Marco Rubio who are committed to conservatism, but bring a kind of youth and life to the Republican Party."
"I value the America [Kirk] represents," states Hoyt, "When he goes to Washington, I know he's the type of guy that will build consensus. He's not one to lead by pronouncing how it will be."
"The good thing about Kirk is that he's not some career politician, he's not the kind of guy that spent years in Washington and then spent years as a lobbyist." explains Hoyt,
"But, we need someone who is focused on Arizona, focused on our issues, that's focused on our state and that's Kirk." concludes Hoyt.
Adams is a husband, father, and small businessman. After joining the state House in 2006, he became so frustrated by the unwillingness and inability of Republicans in the Legislature to stand up for their conservative principles that he launched a long-shot campaign to oust the veteran Speaker of the House. Adams shocked the Republican establishment and political class, winning the Speakership at only 35 years of age.
Adams turned the tide in the House and put Arizona back on the path to fiscal responsibility with an aggressive agenda of reform, courageously taking on some of the most challenging issues in Arizona.
Adams, a lifelong East Valley resident, lives in Mesa with his wife JaNae their five children.
###