FOR IMMEDIATE RELEASE: December 5, 2011
CONTACT: Colin Shipley
Calls for the Arizona Legislature to Stop Killing Jobs by Raiding the HURF
(PHOENIX, AZ) We Build Arizona, a statewide coalition of job creators, launched a media campaign calling upon the Arizona Legislature to stop killing job creation by raiding the HURF. Over 43,000 jobs in Arizona have been lost due to the legislature's raiding of these funds.
"A good transportation system is needed to manage future economic growth," said Ryan Mackey of We Build Arizona. "The politicians in the Arizona Legislature have been raiding the HURF for 11 years and it must stop so we can put Arizonans back to work and keep Arizona families safe on our roads."
The statewide media campaign includes television, radio, social media, and direct voter contact to educate Arizonans on how the politicians in the Arizona Legislature have cost our state over 43,000 jobs while putting the safety of Arizona driver's at risk.
"The raiding of the HURF didn't start because the economy went south," said Gary Haydon of We Build Arizona. "The politicians in the state legislature have been using the HURF for their own political benefit, not for what it is intended. If they are unwilling to fix their mistakes, then we will take their raiding of funds and killing jobs directly to the voters by placing an initiative on the 2012 ballot."
We Build Arizona is a statewide coalition of businesses and organizations dedicated to creating jobs by protecting and growing state and local infrastructure funding. The coalition consists of the American Council of Engineering Companies of Arizona, Arizona Builders' Alliance, Arizona Chapter, Associated General Contractors, Arizona Transit Association, Associated Minority Contractors of America, Friends of Transit, and Tucson Utility Contractors Association.
To view the television ad and listen to the radio ad, please visit www.WeBuildAZ.org.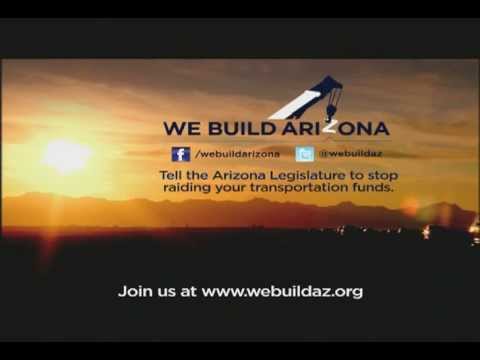 ###