I initially wasn't going to post this video on Sonoran Alliance but after reviewing the video, I think it's important for many Republicans to realize the "battle" taking place here in Arizona over the direction of the Republican party. This video clip shows an incident that occurred in Legislative District 19 on Thursday night. Earlier a vote had been taken and agreed to by the quorum present to close voting at 7:40 PM. Minutes prior to the time deadline, warnings were issued for everyone to get in line in order for their ballots to be accepted in the ballot box. The man seen here in the plaid jacket stood in front of the ballot box for an unreasonable amount of time as many people witnessed him attempt to conduct a stalling maneuver. Once the voting was announced to be closed, the following incident occurred.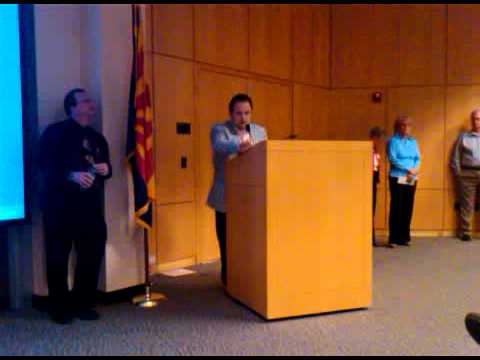 Leadership of the meeting finally allowed him to vote at which point he placed a multitude of ballots into the box.
For the first time in four years, the room was packed with people who had never shown up at a district meeting. Many of the party faithful were wondering who or where these precinct committeeman came from not ever having attended a meeting for the district. One of the most diligent members of LD-19 who has overseen the attendance of precinct committeemen for over a decade, asked the questions everyone else wanted to know. Who are you? Where did you come from? And will you be coming to the future meetings? Many of the new people were not TEA Party members from either the Red Mountain TEA Party or East Valley TEA Party. Regarding the man in the plaid jacket, many TEA Party members claimed to have never seen the man in attendance at any TEA Party events.